Messiah Obama's Other Original Sin...Flawed View Of Racism In America
Obama's Flawed View On Racism, It's More Than A Black And White Issue
Posted by :
MsHeather
September 28, 2009 - 6:12am
An Op-Ed By Heather™
I wanted to do a re-posting from an excerpt of an op-ed I had written in my old blog site, as well as the comment and reply sections of Washington Post and the New York Times, it received praise from conservative bloggers, although it was trashed by liberals which in and of itself is high praise for a core Christian Conservative and blogger like myself. The reason I wanted to repost this is because liberal neanderthals... men like Carter, Clinton, and women like Pelosi seem to want to play the race card and play upon the needless plague of white guilt that infects America today. Many on Twitter™ may not have had the opportunity to read and comment on it, so please feel free to do so
If you remember back during Obama's campaign for the presidency he had an overly hyped speech on race that was severely flawed, and lacking in substance. In a hurry to kiss up to African Americans the mainstream media ridiculously had the audacity to compare that speech to Abraham Lincoln's [Chris "thrill up my leg" Matthews] Gettysburg Address, it was not even close to the quality, honesty or integrity of Lincoln's speech, the reason I say honesty is because Obama made his speech as a campaign ploy while Lincoln's Gettysburg Address came from the heart to heal a nation not as a campaign strategy to win over votes
I Titled my op-ed Obama's Other Original Sin [The one of omission] Since in his speech he assailed that Slavery is tantamount to the Original Sin in the Book Of Genesis, well that is the conclusion I got at least. I personally interpret that as mocking God and demeaning the Holy Bible, the the paramount importance of the act of Original Sin as well as the falling from grace of Adam and Eve. God the Father considered the sin so grave and severe that he sent His only begotten Son, Our Lord God And Savior Jesus Christ to sacrifice his life and crucified on a cross to redeem our sins and reconcile ourselves unto God The Father and for obama to compare or use even use the term "Original Sin" in relation to slavery is utter folly. That alone proves to me Obama is not a great speaker.
My main purpose is to point out Obama's flawed view on racism, race, as well as race relations in America. Once again his speech is long on rhetoric and emotion but acutely lacks any legitimate substance and as a result it reveals to me that this man has little or no understanding of racism throughout American History, furthermore it just reveals it's true intent which was simply a ploy to win praise from liberal fools in the media as well as winning votes. Here is an excerpt from my post
The Other Original Sin Senator Obama Will Not Speak Of...Senator Obama was graceful in his speech about racism but it was very limited in scope and vision, it focused primarily in Anglo-African American relations while ignoring other minorities, in my opinion if you discuss racism you need to discuss it in its entire genesis.

What Senator Obama failed to mention in his lofty flowery speech on racism was any mention on the subject of other minorities beides African American. Senator Obama's speech on racism was extremely flawed and limited in scope vision and unity. He predominantly focused on racism on the African American community while practically ignoring other minorities and their struggles of oppression. Ignored were the Chinese, who were basically imported as slave labor for the construction of American railroads. The constitution of California was rewritten in 1879 forbidding any man or woman of "Chinese or Mongolian" ancestry from earning a living by working for a white man. And the legislature delegated "all necessary power" to towns and cities "for the removal of Chinese." The state constitution declared that the Chinese people were "dangerous to the well-being of the State.

In 1882 the Congress enacted the Chinese Exclusion Act, which decreed that a Chinese man who worked with his "hands," who was a "manual" laborer, would be prohibited from coming to America. And the people from China who were already residents were barred from becoming citizens. Chinese, like Black people and Indians, were not allowed to testify against whites in court. They were barred from public schools and forbidden to own real estate or get business licenses or government contracts. In San Francisco, laws were passed against the Chinese like a "queue tax," a "cubic air ordinance" requiring that every residence have so many cubic feet of air per inhabitant, and a "pole law" prohibiting the use of carrying baskets on poles. Laws that specifically targeted Chinese immigration stayed on the books until 1965. The Chinese Exclusion Act was not repealed until 1943--and even then immigration of Chinese was given a quota of only 105 per year!

The white labor movement in California became a major force behind the racist campaigns to drive the Chinese out. Mobs stormed through towns where Chinese immigrants lived, burning homes and looting shops. Chinese were lynched and scalped. They had their pigtails cut off and were branded with hot irons. In one incident a mob caught a Chinese miner and sliced off his genitals. In one Nevada town a Chinese laundryman was tied to a wagon wheel and the buckboard was driven at high speed through the town until the man's head fell off. One Chinese crab fisherman who was beaten to death was branded by hot irons, his ears sliced in half with a knife and his tongue cut off. You see Senator Obama it's not just about what African Americans endured in Selma.

In closing, I just wanted to express my personal opinions on Senator Obama's ridiculously overvalued speech on racism. You see Senator Obama if you are going to have a speech on racism it has to be inclusive of all races, minorities and women that have suffered. For a man that claims a lineage of all colors of the rainbow and multiple continents your speech was sadly black and white.
That is an excerpt of what I had posted a few weeks before the Super Tuesday Elections of last year. Please know it was not my intention to in any way minimize the sufferings of African Americans but to merely point out and gave one example that other minorities have suffered as well and if you are going to have a valid speech on race in America it has to focus on all races not just African Americans otherwise it just comes across as a cheap ploy to appeal for votes. In any event there are so many terrific people here that I felt I would share it with you even though its belated it still shows an important mindset of The Minister of Miracles a.k.a. President Obama. Well my time is up and I sincerely thank you so much for yours. God Bless each and every one of you and God Bless America!
Note* I can be found on Twitter @ twitter.com/_MsHeather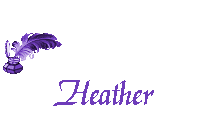 Filed under :